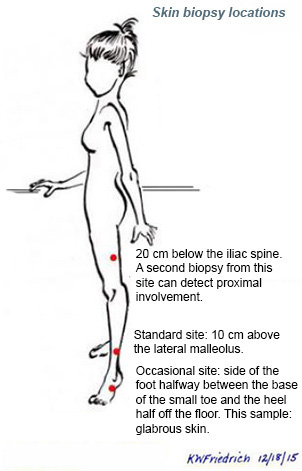 If you would like to have a skin biopsy, you have three options:
1. Schedule a biopsy at Massachusetts General Hospital:
This service is offered for adults and children in Boston, Massachusetts, and for adults only in Dover or Portsmouth, New Hampshire from
MGH providers
.
Before calling for an appointment, you must have your primary care doctor fill out and fax the skin biopsy requisition form: 
Skin Biopsy Request
2. Have your biopsy taken elsewhere and send the sample to MGH for analysis:
If you want to send skin biopsies performed by an outside physician in the United States  (see our 
Neuropathy Experts
) sent to MGH for analysis, please follow the directions in this packet: 
Outside Biopsy Packet
3. Request a second opinion of a biopsy slide analyzed elsewhere:
If you previously had a skin biopsy at another facility, we are more than happy to provide a second opinion. Please contact the outside facility and request that your slides be sent to:
Dr. Anne Louise Oaklander
Massachusetts General Hospital
Nerve Unit
Dept of Neuropathology WRN310
55 Fruit Street
Boston MA 02114
You will need to fill out a form from the outside facility. Please have them include a copy of the request for a second opinion, and the physician (and contact information) to whom you would like the results sent.
For all services: If you do not have an MGH medical record number, please call (866) 211-6588 to register and provide insurance information. 
What to expect after a skin biopsy:
The small wound may ooze on the day of the biopsy. To minimize oozing, keep the tight bandage on for a few hours, avoid vigorous exercise for several hours, and keep your leg up when you are sitting.
Keep the area covered with a Band-Aid for several weeks until the scab drops off. Change the Band-Aid daily after bathing. Keep the area away from dirt; swimming is okay.
You may experience redness and swelling for a few days at the site. Once the scab falls off   after a few weeks, you may see a pink scar that will fade over the following months.
Call your doctor if redness or swelling becomes worse or doesn't go away, or if you see pus coming from the biopsy area.
Questions? Contact the MGH Nerve Unit:
(617) 726-9391