by Dr. Matt Bianchi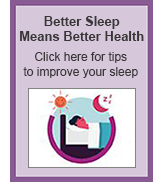 The age-old wisdom that sleep is important to maintain health is now supported by modern scientific research. All our bodies systems benefit from good sleep and suffer when we sleep poorly or not enough. Chronic pain from any cause is strongly linked to poor sleep. People who sleep poorly are more likely to have pain, and those with chronic pain are more likely to sleep poorly. On the plus side, treating poor sleep can improve pain, and reducing pain improves sleep.
Although the topic needs further study, neuropathy and nerve problems have already been linked to poor sleep in several ways. For instance, neuropathy can cause a common sleep disorder known as restless leg syndrome or RLS (Rutkove et al., 1996; Entezari-Taher et al., 1999). People with RLS often kick and move their legs when they sleep, waking themselves and any bed partners up over and over each night, meaning that they don't get enough undisturbed sleep. Another link is diabetes, which increases the risk for sleep apnea as well as to neuropathy. Sleep apnea is a common condition in which people have temporary blocks or stops during their sleep, and the amount of oxygen in their blood dips low, so their body wakes them up for a few moments to get their breathing restarted. Some people wake up dozens of times each night, leaving them unrefreshed in the morning. A recent study found that sleep apnea patients were more likely to have test evidence of neuropathy than a healthy volunteer comparison group (Mihalj et al., 2015). A 2016 research study found that half of patients with sleep-testing abnormalities known as "excessive fragmentary myoclonus" or EFM have evidence of having peripheral neuropathy (Raccagni et al., 2016), and it recommended that all patients diagnosed with EFM be tested for peripheral neuropathy as well. EFM is something that patients may or may not notice as night-time twitches or cramps, and it requires testing in a sleep laboratory (polysomnography) for doctors to notice it.
So patients with neuropathy should tell their doctors about any sleep or fatigue problems they may have noticed, as many are treatable. Some medications, such as nortriptyline and gabapentin can treat both neuropathy pain and sleep for some people (Garcia-Borreguero et al., 2002). And for anyone, getting either neuropathy pain and sleep disorders diagnosed and treated is likely to improve the other problems as well.
References:
Rutkove SB, Matheson JK, Logigian EL. Restless legs syndrome in patients with polyneuropathy. Muscle & Nerve. 1996;19:670-2. Abstract
Entezari-Taher M, Singleton JR, Jones CR, Meekins G, Petajan JH, Smith AG. Changes in excitability of motor cortical circuitry in primary restless legs syndrome. Neurology. 1999 Oct 12;53(6):1201-5. Abstract
Garcia-Borreguero D, Larrosa O, de la Llave Y, Verger K, Masramon X, Hernandez G. Treatment of restless legs syndrome with gabapentin: a double-blind, cross-over study. Neurology. 2002;59(10):1573-9. Abstract
Kotagal S, Silber MH. Childhood-onset restless legs syndrome. Ann Neurol. 2004;56(6):803-7. Abstract
Mihalj M, Lušić L, Đogaš Z. Reduced evoked motor and sensory potential amplitudes inobstructive sleep apnea patients. J Sleep Res. 2016 Jun;25(3):287-95. Abstract
Raccagni C, Löscher WN, Stefani A, Wanschitz J, Kraemer L, Heidbreder A, et al. Peripheral nerve function in patients with excessive fragmentary myoclonus during sleep. Sleep Medicine. 2016;22:61-4. Abstract