A nonprofit collaborative is giving genomics researchers the tools they need to help families with rare diseases due to genetic causes

Genesis 2.0 is a free, online computing platform for genomics data management and analysis. Used by many researchers in the field of rare genetic diseases, Genesis allows them to manage, analyze, and share the large amounts of data that result from genomic investigations. This speeds discovery and the translation of basic research into scientific breakthroughs.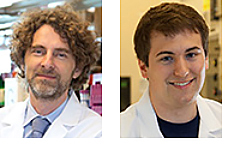 Neuropathy Commons genetics expert Stephan Zuchner, MD PhD (far left), co-founded and heads the Genesis Project. Matt Danzi, PhD, of the Zuchner lab at the University of Miami, is leading the continued development of Genesis. Danzi explains their work this way:
"The genomes of patients with Mendelian diseases need to be analyzed to figure out which variants are responsible for their ailment. This is a difficult and laborious task, but it is a necessary first step to understanding their diseases and developing therapies. We made available for free one of the most commonly used genome research platforms – GENESIS. GENESIS allows users to upload exome and whole genome data from patients with Mendelian diseases and analyze them through a user-friendly web interface. Raw genomic data is processed to detect SNVs, indels, structural variants, regions of homozygosity, and tandem repeat expansions. Data is kept secure and is only made available to the uploader and their chosen collaborators. Analysis of genomic data in Genesis and matchmaking among its hundreds of international research users has aided in the discovery of over 80 novel Mendelian disease genes since 2011."
The Genesis Project is an all-volunteer, scientist-managed academic foundation dedicated to fostering genetic discovery. Contributions are welcome.
For more information:

The Genesis Project
The Genesis 2.0 Platform
Register to use Genesis 2.0 
Read more about how the Zuchner lab is using Genesis to uncover novel genes for inherited neuropathies: 

Biallelic mutations in SORD cause a common and potentially treatable hereditary neuropathy with implications for diabetes.
Cortese A, Zhu Y, Rebelo AP, et al.
Nat Genet. 2020 52(5):473-481.
Large scale in silico characterization of repeat expansion variation in human genomes.
Fazal S, Danzi MC, et al.
Sci Data. 2020 7(1):294.
Truncating Mutations in UBAP1 Cause Hereditary Spastic Paraplegia.
Farazi Fard MA, Rebelo AP, Buglo E, et al.
Am J Hum Genet. 2019 104(4):767-773.
Biallelic expansion of an intronic repeat in RFC1 is a common cause of late-onset ataxia.
Cortese A, Simone R, Sullivan R, et al.
Nat Genet. 2019 51(4):649-658.
SCO2 mutations cause early-onset axonal Charcot-Marie-Tooth disease associated with cellular copper deficiency.
Rebelo AP, Saade D, Pereira CV, et al.
Brain 2019 141(3):662-672.